Chair Covers
Chair Covers for Hire Auckland
Quality wedding and event chair covers for hire Auckland.   Imagine if you could transform humble chairs into decorative furniture.  Thats what a chair cover will acheive.
You will create the perfect atmosphere using chair covers from our range of stretch chair covers which cover most chairs. Even chairs with arms.  Sorry chairs with slides are not catered for at this time.
With an Auckland showroom handy to transport networks.  We have a chair cover to suit all occasions plus we courier. Weddings, corporate events, Christmas gatherings, school balls, engagements, 21sts, birthdays, product promotions – we have a style to suit your needs.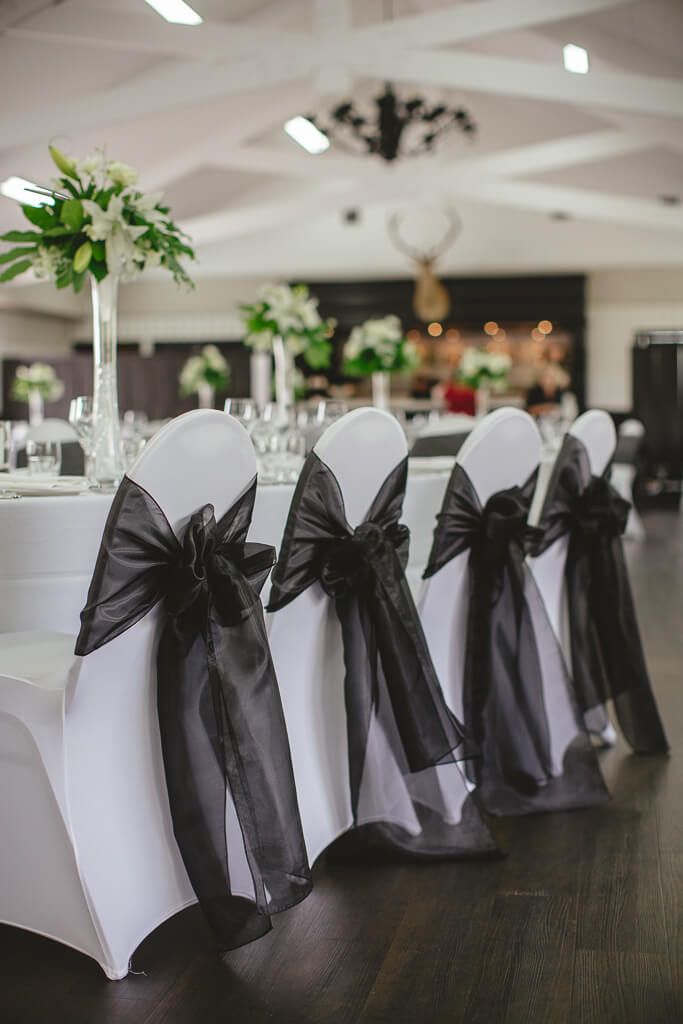 Achieve the Right Look for a Party with Cover Chair Hire in Auckland
Are you looking for cover chair hire in Auckland? Whether it's a wedding, a corporate party or a private event, making sure your party has the right aesthetic is key to setting a tone and atmosphere. At Covers Decoration Hire, we can help. For more than a decade, we have worked with clients to create picture-perfect setups for their events. No matter the size, theme or setting for your event, we can help you paint the canvas so that it looks just the way you envisioned it.
Related Services We Provide to Cover Chair Hire in Auckland
Perhaps you are hosting a backyard wedding and want to make sure the chairs you have fit the aesthetic of the wedding. Our chair cover hire in Auckland makes it easy to turn any chair into a wedding-worthy piece. However, do note that our business does much more than just Auckland chair cover hire. Some of our other services or equipment hire options include:
Table and chair hire.

In addition to chair covers, we also offer table and chair hire in Auckland. Our tables and chairs are available in a variety of styles and colours. We have options to suit any event, from rustic backyard weddings (our wooden table hire in Auckland is a popular option for these) to more formal banquet-style dinner parties.

Aisle and altar setups.

The chairs and chair covers aren't the only important component of the wedding ceremony photos. On the contrary, while chairs with the right aesthetic can add to the beauty of a wedding, it's the more central elements—the aisle carpet and the altar arch—that create an unforgettable, picturesque impression. Many couples who work with us for chair hire in Auckland also choose us for the perfect carpet and arch for their aisle and altar setups.

Decorations.

Clients frequently trust us with all the décor needs of their large events. That means not only Auckland cover chair hire or chair band and sash hire, but also vases, centrepieces, backdrops for photos, candlesticks, chalkboards, cake stands, decorative signs, flowers or flower walls, lanterns and other lighting décor, mirrors, tableware, tea lights, napkins and much more.
Benefits of Working with Covers Decoration Hire
When you choose Covers Decoration Hire as a partner for the planning and execution of your next big event, you will get more than just a dependable table hire in Auckland. We pride ourselves on providing a service that makes putting on an event markedly easier and less stressful for you, the host. Here are a few things you can expect when you hire us for your event:
Scalability to your event size.

We can certainly help clients with smaller events, but what sets our business apart from competitors is our ability to handle huge events. We can scale our services to suit functions of up to 500 people. This factor makes us a go-to when customers need help with a larger wedding, a full-company corporate event, a ball or prom for a large school or the like.

Full-service setup and tear down.

For smaller events or hires, clients will sometimes opt to stop by our showroom to pick up the items they ordered. For instance, if you're counting on us for just an Auckland cover chair hire, you might prefer to pick up the chair covers yourself. For customers who are throwing larger parties or events, though, one of our core selling points is that we can provide full-service setup or tear down. Collaborate with us to order what you need, or

to put together a package for your wedding or event

. We'll keep track of everything you need and get it all ready to go ahead on event day. When the time comes to prepare, we'll deliver everything and provide full setup/installation services. After the event, we'll return to tear down, pack everything up and take it away. By handling these sizeable components of the event planning process, we give you more of a chance to stay in the moment and enjoy your party—something that is especially important for brides and grooms who want to minimise stress around their wedding day.

Attentive customer service.

We regularly handle 500-piece orders for chair hire in Auckland, but that doesn't mean we are a huge company. On the contrary, our business remains small and independently-owned—factors that help us provide stronger end-to-end customer service. We already talked about our comprehensive delivery, setup and tear down services, but we also love working with customers to plan their events, recommend certain pieces and put together packages that make sense given specific budgets. Friendly, communicative service is the cornerstone of everything we do and is something we take very seriously.
Why Trust Covers Decoration Hire Regarding Your Event Hire in Auckland
Whether you're looking for a trestle table hire in Auckland or on the hunt for the most beautiful wedding arch, you've come to the right place. At Covers Decoration Hire, we have been in this business for more than 15 years. We've worked to bring countless events from the drawing board to fruition. Our goal, every time, is to make sure your event has the desired look, feel, and set-up to go off without a hitch. Contact us today to learn more about our decoration, chair and cover or table hire in Auckland.