Parnell Wedding Ceremony Package
For the Romantic Parnell Wedding Ceremony Package to be set among beautiful gardens, see our team of experts then all you need worry about is the weather.
The Covers Team will ensure everything looks perfect so when you walk down the aisle, into the garden or simply arrive you will be amazed.
We plan to make everything so easy, you are free to enjoy your very special day.
What's in the Parnell Wedding Ceremony Package?
Romance Arch/Backdrop with white or cream fabric(pictured)
Flower Arrangements as pictured on Arch
Sandstone Pedestals
Sandstone Urns with Flower Arrangements to match
Signing table with cloths
Chair for signing table with cover and sash
16 x Chairs Barrel with Organza Sash (champagne pictured)
$950.00 including gst
Setup & Pack down starting from $300 +GST
Set up in Auckland Area – exclusions apply
Pack down on Same Day after ceremony
Contact Us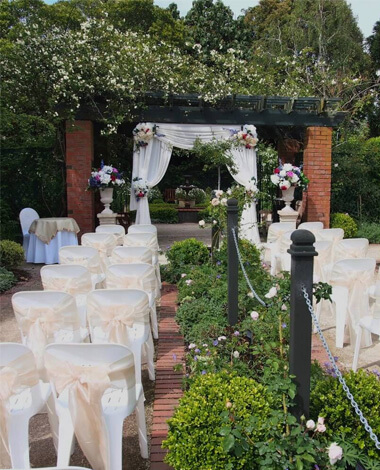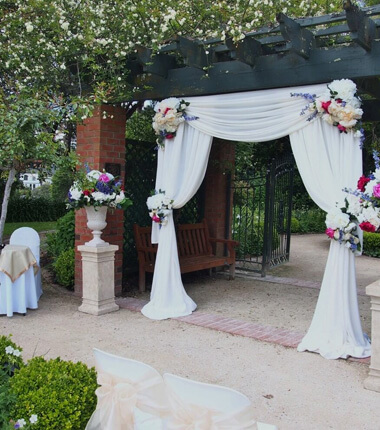 Optional Extras:
Change chairs to white wooden folding additional $60.00
Change chairs to chiavari additional $120.00
Additional chairs barrel with sash $6.00 each
Flower colour change additional $40.00
Aisle carpet (not white) from $50.00
White Aisle carpet $15.00 per metre
Other alterations to the package may come at extra cost.
The Parnell wedding package is available to hire without the set up and pack down services.
If you are having an outdoor ceremony we highly recommend you use our packdown service so you and your guests can enjoy the occasion without the worry of putting everything away.
We also recommend you have alternative arrangements made if the weather does turn bad on the day of your outdoor wedding ceremony. This will ease any disappointment on the day.
This package is able to be located inside as well as out so if you are planning a hall, church, home or barn wedding we can transform these areas too.
We are here to help you have the best day possible so do contact us we would love to help.